Tuesday, October 21, 2008
by
jennie
Hello again. As promised, I am going to do a fun post. It's all about my favorite thing: the museum.
Not so recently, maybe a few weeks ago, Britt and I FINALLY went to the SFMOMA (San Francisco Museum of Modern Art). It was good, but we did not check out the Frieda Kahlo exhibit. It was great when Britt and I reached the second floor, we froze as we turned the corner. There we saw them, Joseph Stella and Charles Scheeler. Side by side. It was amazing. It had to be my favorite Scheeler I had ever seen next to one of the greatest (but not THE greatest) Stella's.

Britt in front of the Stella. I can't find any pictures of the Scheeler. Boooooo.
After spending a good long while staring at these paintings, we moved on our way past the Duchamp urinal, Cornell's shadow boxes, and this breathtaking Rothko: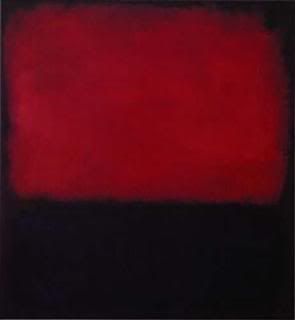 It's 114 by 105", and dominates the room. You can feel the intense red vibrating. It stole the attention from all the other paintings in the room.
Then we came upon one of the greatest things I have ever seen. As most of you know, my favorite and most inspiring artist in my life has been Claude Monet. Well, if Monet and Shannon's favorite artist Roy Lichtenstein had a love child in painting, it would be this: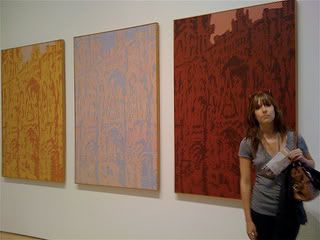 Lichtenstein's Rouen Cathedral Set V His interpretation of Monet's Rouen Cathedral Series. Up close, you couldn't see the cathedrals, and from far away, it blended beautifully. When you stood at the far side of them and looked acros the wall, you just saw lines, no image, no dots.
These images don't serve justice to seeing the real paintings (reason to come and visit??) In fact, we walked past each two more times. We probably spent the majority of our time staring at them. Our next goal is to visit the deYoung and become members.
Then on Sunday, October 12, I took Shannon on a surprise date to the Musee Mecanique. It's in Fisherman's Wharf (very touristy area and also very fun and scenic). It is just a huge room/warehouse full of antique video games and coin operated games. It had a bunch of old games Shannon used to play AND older. Much older, like the time of my great grandparents.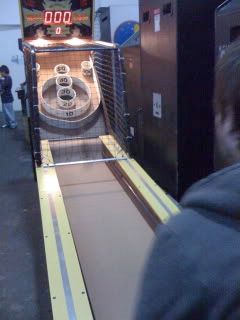 Ski Ball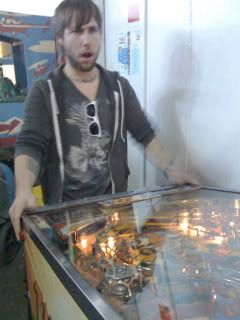 Shannon mad at the Indiana Jones pinball game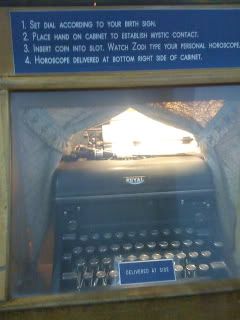 Antique typewriter that types out your horoscope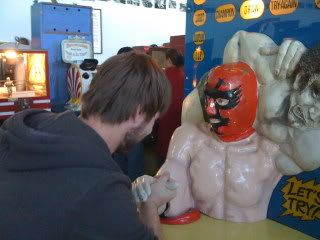 Shannon doing the arm wrestling game.

An entire carnival scene made from toothpicks by inmates in the early 20th century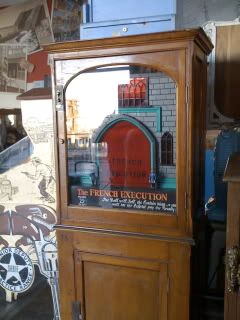 There were these scenes, such as this French execution, where you paid a quarter to watch a guillotine fall or a man hanged. While very disturbing, not gruesome.
Lastly, they had the "Test Your Love, Hotness, whatever" tests. In this one game, you had to hit a button as fast as you could to test your love rating. Here is what Shannon got: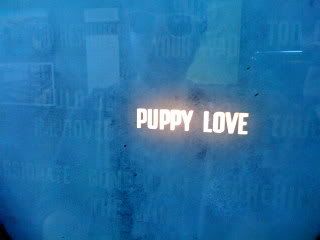 And then here is what I got. I love it: