Saturday, March 29, 2008
Hi, Everybody!
I missed the beginner's pilates class this morning. I fell asleep on the sofa last night, and Shannon left me there. He normally wakes me up. I wonder if I can just start in a regular pilates class. Well, the new month's schedule will be coming up soon, so we'll see what I will even have time to take. I should have gone to work out today, but oh well, I'll go tomorrow. My muscles are recuperating from beginning such long workouts.
Instead, I made plans to bake cupcakes. I originally planned to make vegan cheesecake cupcakes, but they were basically little cheesecakes. Instead, I made chocolate cupcakes, Shannon's favorite. This time I added something I would like and have not yet tried. Butter cream frosting. It was delicious, not too sweet, and simple to make. I ate one, of course, but not before I took a picture of the finished product.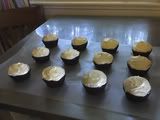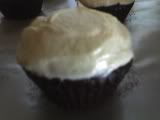 I don't know if they'll be sweet enough for Shannon, but they're just right for me.
That's all I really had to say. I was just so pumped about baking and trying something new. If you want one, you are more than welcome to come here and have one!
-j
ps sorry about the images, i don't know why the sizes aren't changing...