Sunday, April 6, 2008
Hi, Everyone-
So I would say I had an eventful week. Let's start with Tuesday. Shannon was scheduled to take the boards on Wednesday to get his cosmetology license, so we rented a car and drove to Fairfield (ha, yes) the night before and got a hotel room near the testing site. We ordered Papa John's Pizza, which Shannon has been missing since we moved. Nobody sells it around here. It was good, I must say, and I'm not even their biggest fan. Shannon realized he had forgotten his scissors, so we drove back to the apartment to get them that night. It is probably a 45 minute drive. We stayed up late studying and got up the next morning at 5 to get his rental kit. I was not allowed to wear makeup or have anything in my hair. Needless to say, all of the models for the test looked like a mess. Most of the hairdresser's models were their mothers. It was sort of cute.
So the test was bizarre. Shannon had to perform various outdated hairdressing practices on me as well as perform a facial and manicure. Here is the one hand that got nail polish. The other hand got on sad looking acrylic nail. I would have taken a picture, but I peeled it off immediately.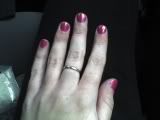 He had only 20 minutes to perform each task, which was insane. I was even feeling the time crunch and stress. So there is an examiner who stands at the front of the room and watches each person closely to see if they are following the right steps and being sanitary. I thought Shannon did fine, but I was still nervous. Some people really had it together, and others didn't. Not every hairdresser had to perform the same tasks as another, giving an unfair advantage in my mind. One girl put makeup on her model (easy) while Shannon and two others had to use a heated comb to straighten "black hair" and then curl it with a marcel iron. The heaters barely worked, and nobody does this anymore.
Once the practical testing time was over, the models were kicked out of the studio. I'm serious. The examiner literally said, "It's time for the models to leave. Drop everything you are doing and leave. Get out of here models." She didn't have much patience. So the models all left in the current state we were in. Half done manicures, sopping wet hair caked with gel, and everything in between. I was fortunate, I guess. I had gel in my hair, but Shannon managed to wash some of it out before the time was up. Fortunately, I had my overnight things in the car, so I had makeup and a blowdryer, etc. I had too much gel in my hair to try to dry and straighten it, so I gave a shot at twisting it with my fingers and letting it air dry. Turned out pretty cute actually. This picture makes it look messy and gross, but trust me, it was something I'll try again.
While I waited for Shannon to take the written test, I hung out with another mom who seemed pretty cool. She didn't work, just spent her husband's money and paid for whatever her kids wanted. She was waiting for her daughter to finish the test. I learned that she went to firefighter school and quit a week before it was over. Then she became a stripper and lived in the Castro until she decided that stripping may not have been the greatest career path. Then she decided to try her luck at hair. Now she puts fancy expensive hair extensions in for girls that work for Hustler, Cirque du Soleil (so she says) and, of course, for strippers. She passed the test.
That night I felt really sick. I noticed earlier in the week that my voice was getting quieter, and the night before the test, I felt awful. I didn't tell Shannon because I didn't want him to get nervous and think I'd be sick during the test. I did cough a lot, however. I was slammed with a cold, a bad one. So I missed another day of work on Thursday. I felt bad missing one day already since we had a lot of checks to deposit and I was missing an important meeting and grant writing workshop in the city. Although I was still feeling under the weather, I went in on Friday. Later that night, Katie, Shannon, Lindsey, Jason, and I went to "First Fridays" in Oakland. It's this great event that opens all the nearby galleries for free each month. Hoards of people were everywhere. I was surprised I didn't lose my cool and get claustrophobic. I think it was because I was so excited to see some art! I am feeling a little deprived since it's been so long since I visited a museum here. Because we were so late, we only got to see three galleries. The first was my absolute favorite. It was called the Johansson projects. The work inside was great. When you looked in the window, you immediately saw this sculpture hanging from the ceiling. It curiously drew us all in.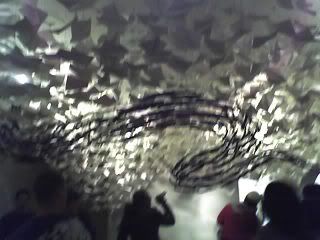 Forgive the poor picture quality. I still need to find my camera, and the camera on my phone has come in so handy, as it is less obvious and touristy, however, obnoxious. The white paper was simply folded like a paper fan, but it looked like tiny paper cranes from a distance. (I would have liked paper cranes better.) And the dark swirl it a grouping of dark paper like a Reeses wrapper crumpled into long twigs. It was really cool to see. Then in the back of the gallery was a video of a cartoon Steve Martin riding a bicycle and falling into the ocean. Then stills were taken from "Back to the Future" (the one where they go to the wild west). Stills of Doc's lady friend came up and had text to show she was calling for him (Steve Martin) to come back. It was well put together, unlike the movie on the other side of the gallery). Just before walking into the room with the video, images from it were hung in frames just outside the doorway. Here is the water.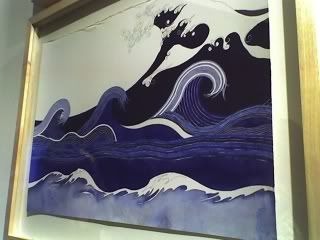 I liked the Hokusai-esque waves and the obvious watercolor strokes at the bottom. There were also images of the bike he was riding. The other galleries we saw were not really worth mentioning. The second gallery was incredibly amateur to me and appeared to have little effort put into it. The third exhibited some work with great ideas, and I could see where they were going, but I think the artists needed to work on the finished product a little better. One room still smelled like fresh oils. The only unfortunate thing of the entire night is that this event is definitely a "see and be seen" type of thing. So many hipsters. Nobody was obviously going to buy artwork. It looked as though people could only afford their cool hipster garb and only cared about looking cool. If you could only have seen. I guessed that is where my camera would have come in.
Lastly, last night there was an event at 111 Minna gallery in the city. 50 different local designers exhibited and sold their work. Shannon had to work at it since Indie Industries was going to be there. Katie, Jason, and I went. It was a cramped and dark, but a lot of fun. Here is a poor picture to give you a little taste of what it was like.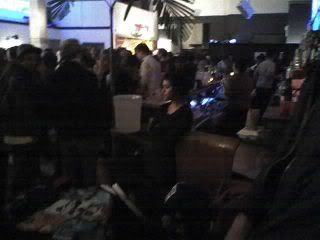 Once again, I'm lucky I didn't have an anxiety attack from how cramped and rude people are. Californians only walk where they want, and if you're in the way then prepared to be run over. Sidestepping is not an option for them. I didn't buy anything, but had a drink and had a great time getting my first real taste of nightlife in the city. The gallery is great. There are two bars in the L shaped space, videos playing on the wall, art hanging up, and live bands and DJ's. It is a gallery with a bar, or a bar with a gallery. However you want to take it. They also rent out the space for parties, have 80's dance party nights, and have a famously known Wednesday cocktail hour from 5 to 8 where people dance in one room and talk about art in another. Sounds like my kind of happy hour.
All in all, it was a great time, despite the fact that my cold tried to bring me down several times. As I write this, I am still coughing, sniffling, and sneezing, but I am glad I did all of this. I can't to do it again sans any sickness.
-j