Monday, May 19, 2008
Hi Everybody,
I apologize for the time between posts. To be honest, I just procrastinated. I'm noticing that I become more and more lazy each day. School was my motivator, and I've been away from it for far too long. I can't wait to get back to the misery of putting off papers and reading textbook pages on a nightly basis. In the meantime, I think I am going to pick up a book at the used bookstore tomorrow that I have had intentions of reading for quite some time now. It's called Ishmael, and I got it for my dad for Christmas even though I hadn't read it myself. I gave it to him in hopes of keeping him from being completely engulfed in his newfound love of Christianity and all the misleading it can entail. I just want him to keep his mind open. It seems so far he has, and that's what keeps me comfortable enough to carry on conversations with him. He is a good guy, but other people in that area can be manipulative. Anyway, that's another story another day. If you have any suggestions for me, I gladly invite you to tell me.
I am proud to say I have made several baked goods and other items from the books Britt gave me for my birthday. To add to my list of things I've made are carrot cake cupcakes from the Skinny Bitch in the Kitchen book. They were a hit at work and home. I made them for one of my bosses birthday.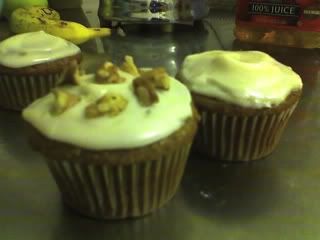 You wouldn't have known they were vegan; they were so moist and fluffy. The only thing I would change is to chop the walnuts for the batter and garnish a little more finely. I hope I said that correctly: more finely, or is it more fine? Shannon and I talked about it and couldn't decide. I know grammar better than he does anyway.
I finally got a real taste of the nightlife in the city this past Saturday. Katie, her friend Kristen, Lindsay and I went to the Mission District for some drinks and dancing. A ladies night if you will. I finally saw the Beauty Bar, which was much smaller than I thought it would be, but still rad. The drinks were stiff and the music was great; it was great until we got to the dance floor and the dj started playing only rap music, bad rap. I thought hipsters only like Kanye West, Common, and Jurassic 5 anyway. Then we went over to Baobop's or was is Baobob's. We danced all night to afro-cuban/sometimes irritatingly reggae music. I broke in new shoes, while others around me assumed I was drunk. Nope, I just had to wear the cutest new shoes regardless of their level of comfort for a night of dancing and drinking.
Work is going well. Not anything new, so I'd say it's going well. I'm hoping that my work can count toward internship credit at school. I work for a non-profit, although it is not a museum, and I started just as things have been getting off the ground for our capital campaign to build a teen center. The directors in marketing & communications and development are keeping me involved and teaching me new things. I've written press releases, grant evaluations, and am working on a mini grant. I also revise and edit large grant proposals and help with events. It's all over the place, and I love and appreciate everyone's effort to help me learn new things, as they know this is what I want to do for a career, only with museums.
I'll leave you at that for tonight. Nothing too exciting has happened lately. Hopefully I will go back to the Rose Garden to take pictures. Hasta.
-j