Saturday, February 23, 2008
by
jennie
Dear All,
Not much new in Berkeley. Shannon and I are still applying to jobs. I did however get offered an interview at another auction gallery. A fine art auction gallery, mind you. Not some sketchy place near an adult bookstore like last time. We shall see how it goes. I think it is full time and pays alright. I also applied for another job at SFMOMA, making my total of applications there 4. UC Berkeley is also hiring a development associate for the Lawrence Hall of Science, so I applied. It's a short AC transit ride up the hill, and the school would get me about a 75% discount on unlimited AC rides each month.
It had been sunny lately until the past couple of days. A big storm is coming in, and it's been raining hard today. I don't think I mentioned this before, so I'll talk about it now. On the opposite side of my block is a group of houses built by the school as an architecture project. They are a bunch of beautiful cottage-like homes. Actually, apartments. Every morning, the sun shines in our windows, and I can look out at the rooftops of these homes. They look like storybook houses. Really.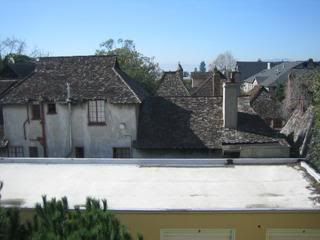 This is an acceptable picture, but it doesn't even show the Cinderella-like tower off to the right. The garage along the bottom ruins the fantasy of it all. Off in the distance, on clear days, you can see the bay and hills of San Francisco, or maybe it's just the North Bay.
So we're officially out of money. Thanks to everyone who contributed to the move. We would be much worse off if we didn't have you all. I'm just going to have to dip into the ol' insurance policy, unfortunately. Hopefully I'll pay it back someday. For the time being, Shannon plays the Sims on PS2 to bide his time. I've slowly been losing my mind, so I started reading just about everything. I've read every Blueprint and Domino magazine in the house. I also read the latest issue of Shape. Now I need to buy Self. I also read my Andrea Palladio book, a birthday present from Britt. If I don't hear anything from anyone next week in terms of jobs, then I'm going to contact a temp agency in the city for new grads. I need a paycheck and some retail therapy.
I've also been watching more of the local news to keep up on new events. Soon, everyone in the nation will be seeing commercials of how the City of Berkeley said the Marines recruiters are not welcome here. They have been trying to keep them out of the city, and things are heating up! If you want to protest something, however, Berkeley is the place to do it. Which brings me to other news. There are apparently Tree Dwellers on the Berkely campus. I live next to that campus! In recent events, the school hired people to cut some of the ropes the Tree People put up due to safety reasons. Well, a bucket of human feces was knocked to the ground. It is now more difficult to get from tree house to tree house, and the Tree People are mad! They are saying that the school is making the trees even more dangerous and are appalled with the school's excuses. I did't know people still did that type of stuff. But, as I said before, Berkeley is the place to protest. Maybe I'm old and jaded and mature beyond my years. I like the ground, and I'm going to stick with it.
I gave my sister, brother, and Britt a tour of the apartment through vchatting. Everyone should do it! It was nice to see some familiar faces, even if they got a bit pixelated at times.
That's all for tonight. Love you all!
-j